November Speakers
November 3, 2019
Camp E Nini Hassee is a year-round therapeutic treatment facility in Floral City. Girls, ages 12- 18. live in the wilderness setting on 840 acres for anywhere between 6 and 18 months. Today, we have 4 girls representing 3 separate groups: Ada, Raven, Cheyenne and Iris. They are members of Cliff Dwellers, Ayukumkus, Tasarakkos groups respectively. The group and camp name is Miccosukee Indian. The camp was the original part of the Jack and Ruth Eckerd Education Foundation – beginning in 1969. Gale Wire is the Principal of the school. She has a Master's Degree in Education from Clemson University and is a certified teacher in English, Social Science, Reading and Exception Student Education, Middle Grades Math. She has worked at E Nini Hassee for 31 years.
Topic:: "The Story of Fannie Lou Hamer"
A brief summary of the events leading up to the voice of Fannie Lou Hamer as a voice for all; indicating just how histories are interwoven and examining the trudge from Civil War to Civil Rights and the women's influence throughout.
November 10, 2019
Amy Haiken, a senior software engineer, has recently retired from the corporate world. She just started a web development company called: Diamond Gait Web Design. Amy is the developer of the NCUU website, and also handles the monthly newsletters. Amy has been a member of NCUU for two years, along with her husband Mike Taylor, another NCUU member. They both have 2 dogs, 2 horses and 7 chickens on their 20 acre property close to Goethe Forest.
Topic:: "Jesus Without Baggage – a Tribute to Tim Chastain"
Amy met Tim Chastain over 10 years ago when she joined Toastmasters in the Orlando-area. Tim was a co-founder of the Central Florida Facilitators Toastmaster Club. Later, Tim created a blog called, "Jesus Without Baggage", and Amy became a loyal reader of the blog. His blog was read by many, and he showed his great knowledge of the scriptures and what they meant to him. Amy will discuss a few of subjects that he included in the blog, and she hopes that you'll become a follower of this blog, too.
November 17, 2019
Topic:
"The Truth About Thanksgiving"
November 24, 2019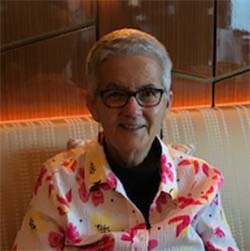 Rev Carole Yorke has been a Unitarian Universalist minister in Florida since 1998. She has served the Spirit of Life UUs, the UU Church in Stuart, and First UU Congregation of the Palm Beaches, but is now retired in Port St Lucie where she lives with her four beautiful Pomeranians. She also loves to travel. She loves also coming all the way from the east coast of Florida to visit with Nature Coast UUs.
Topic:
"Animal Blessings Service"
She believes we can exchange love and gratitude between ourselves and our beloved pets. We pet them, feed them, and play with them. They wag their tails and sometimes jump on our laps to give a kiss. Let's be especially grateful for them at Thanksgiving time.