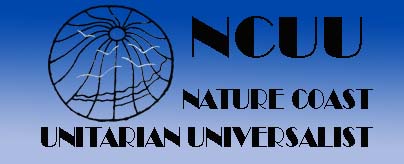 We are a liberal religious community of diverse beliefs.
We welcome all people who will share our covenant to affirm and promote our seven principles, without regard to race, color, physical ability, gender, gender expression, sexual orientation, age, national origin or religious affiliation.
Nature Coast Unitarian Universalists strives to be a loving, open, inclusive, and diverse congregation in which all are encouraged to actively participate and grow spiritually in a supportive and socially responsible community.

About Us
Learn about us including:
"Who We Are"
"What We Believe"
"Our Seven Unitarian Universalist Principles"
"How We Challenge Injustice while Advancing Human Rights"