March 2023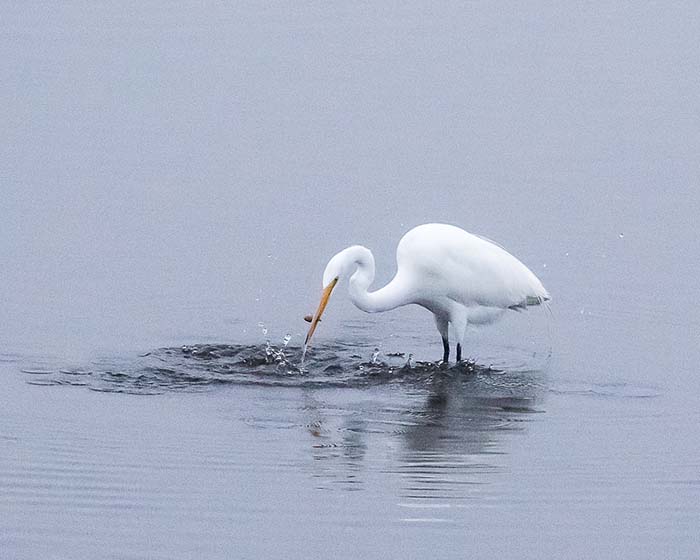 Services start at 10:30 a.m.
Our services are also available live via Zoom. Please send a request to [email protected] for the link.
Sunday, Mar. 5, 2023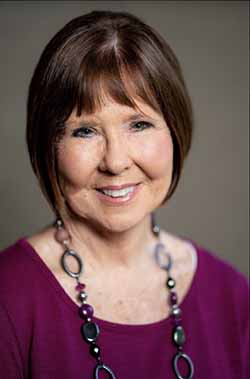 Speaker – Dee Collier
Biography:
Dee Collier is a former elementary school teacher from Ocala who loves drama and history. Those loves have led her to portray 25 famous (and infamous) women in history. There will be a board on a table that has pictures of her portraying some of them. You're welcome to take one of her papers or cards and invite her to other groups as well.
Topic: Florence Nightingale
Florence Nightingale was born into a very wealthy family at a time when nursing was considered one of the lowliest occupations. They thought she would ruin their reputation. But she persisted in her calling to be a nurse and was the founder of modern nursing. During the Crimean War she trained nurses, cared for the sick and wounded, earning the title "The Lady with the Lamp". Her tenacious adherence to sanitary practices saved untold lives and inspires nurses to this day. Theme: Tenacious commitment in the face of adversity
Sunday, Mar. 12, 2023
Speaker – Linda Starkweather
Biography:
After a career in teaching and theater, Linda spends her retirement as an artist, activist, theater professional, carpenter and snowbird spending half the year in Dunnellon and the other half in Naples, NY. She and her partner Lynne have brought their unique perspective and philosophy to many UU congregations in both New York and Florida. They share their home with a Buddhist and a terrorist – both beloved rescue dogs form Florida.
Topic: "From Where We Are Right"
Maybe truth is a verb. . . something we experience, something we live, not something we know. Maybe that's what "responsible" means in our Unitarian 4th principle. A free and responsible search for truth and meaning. Learning to live truth, to experience truth, and to honor the possibility that another experience may bring another truth . . . to walk freely into the unknown every day with a sacred curiosity, a holy question, instead of a shield of knowledge. And, maybe by aspiring to live truth, we find the deep meaning of our lives.
Sunday, Mar. 19, 2023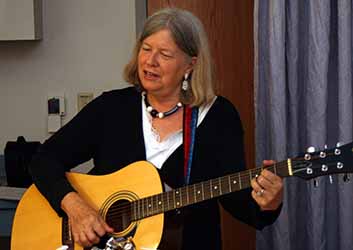 Speaker – Cathy DeWitt
Biography:
Cathy DeWitt, an award-winning songwriter, was destined to be a musician; it is literally in her blood. Music filled her living room, from her father's Dixieland trumpet and stride piano to the Rachmaninoff and Chopin pieces; her brother Peter, a prodigy pianist, played on the grand piano. A Music Director and musician for more than twenty-five years, she has shared songs and stages with David Roth, Greg Tamblyn, Garrison Keillor, Pete Seeger and more, and provided music at workshops for many authors including Alan Cohen, Wayne Dyer, and Marianne Williamson. Her radio show Across the Prairie has aired off and on for over twenty years, currently running on WMBT90.1 The Wombat.
She recently retired after nearly 30 years at Shands Hospital/UF Health Arts in Medicine program in Gainesville, Florida, where she created the renowned Music in Medicine program. From piano playing in the hospital lobby to elevator singalongs; from hallway concerts to bedside harp in the ICUs, Cathy transformed the hospital environment and the patient experience with music.
Currently, she is the leader of a healing arts pilot program for North Florida Cancer Specialists at their Gainesville location. Overseeing four artists who bring music and visual arts to the patients. She is a sought-after guest speaker/musician at churches from coast to coast, and has sung professionally throughout Florida, New York, California, London, and Hawaii. Find out more at www.cathydewitt.com
Topic: Embracing the Healing Power of Music
This is a story that illustrates how saying yes to something that you are afraid to do can lead to a life of joy and fulfillment. It's based on my 30-year career playing music in the hospital for UF Health/Shands Arts in Medicine in Gainesville, and includes information and anecdotal stories about the healing powers of music, in many situations, not just the hospital.
Sunday, Mar. 26, 2023
Speaker – Judi Siegal
Biography:
Judi is a native of Connecticut and frequent speaker to the UU's. She is a graduate of Adelphi University and is a retired Jewish educator. Many remember her column on Judaism which ran for several years in the Citrus County Chronicle and the Marion Citizen. She is active in her community and enjoys reading and visiting historical places. She has three grandchildren who are the joy of her life.
Topic: Beyond Matzah: Implications for freedom in our own times
The story of Passover transcends from the Exodus over 3,000 years ago down through the ages to our own times. We will explore how this historical event shaped Jewish history and how this history influenced the world even as we grapple with slavery in our own times. We will explore the topic through a spiritual and historical lens and hopefully glean new insights into the meaning of Passover and the Exodus.